Typically, bamboo flooring lasts about 20 to 25 years. Additionally, it is 2-3 times stronger than wood flooring. While bamboo floorings are scratch-resistant, lower-grade floorings are prone to scratches and dents. It's advisable to buy higher-quality bamboo floorings like strand woven bamboo flooring, which lasts longer.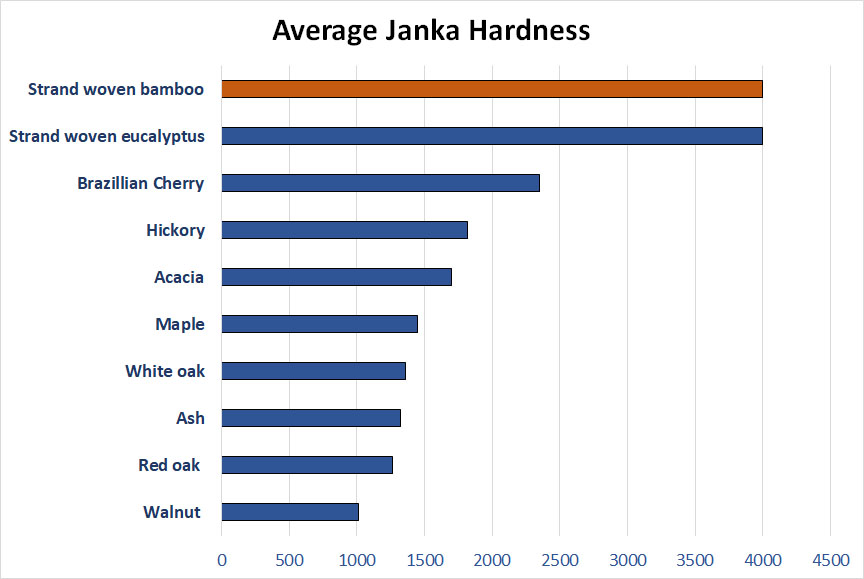 Well, no bamboo floorings are 100% scratch-proof. If they get scratched or dented, can they be refinished? Let's find out.
Can You Refinish Bamboo Flooring?
Yes, you can refinish bamboo floorings. However, different types of bamboo floorings need different ways of refinishing. Make sure the bamboo floors are thick enough. Unlike traditional bamboo floors, modern bamboo floors, like strand bamboo floors, are harder to refinish.
The bamboo flooring refinishing is almost identical to wood floor refinishing.
Bamboo floors can contain formaldehyde, and sanding them can release toxic dust into the air. Make sure you're wearing a dust mask to prevent inhaling toxic air. Additionally, if you have anyone in your house with respiratory issues, do the refinishing in their absence.
Can you refinish bamboo flooring yourself instead of hiring a professional? If so, this is the right guide for you. We're going to be learning how to refinish bamboo flooring and every prep you need before you get into it.
Let's start with the basic question;
Is It Safe to Refinish Bamboo Flooring?
Yes, Bamboo as a material is eco-friendly, durable, water and moisture resistant. It's even resistant to insect invasion and mold. Like other hardwoods, it can be refinished, and it is safe to do so, though it also depends on the quality of the bamboo.
As a glued-up product, it can't be refinished like 3/4″ hardwood flooring. Just refinish it to remove scuff marks and dents.
Remember that a thin bamboo can only be refinished once, whereas a high-quality bamboo can be refinished several times. Additionally, refinishing can create ugly glue spots owing to the glue used to join the boards.
When to Refinish Bamboo Flooring?
Despite the strength of bamboo, it can sometimes turn to look old and worn out, maybe even have a few scratches and dents. This is why there may be a need to refinish it.
In general, bamboo floors are not suitable for refinishing; however, if your floor gets hairline scratched by pet nails or high traffic, ignore them. Refinish the floor if it has numerous scratches or dents.
To restore the bamboo to a luster look, you need to understand the process of refinishing in its entirety. Obviously, if the floor is badly damaged, it is best to replace it.
Refinishing Bamboo Flooring of Different Types
Not every bamboo flooring types are suitable for refinishing. Below, I'll categorize different types of floorings and describe if they are suitable for refinishing.
Basic Bamboo Floorings
There are currently three types of bamboo flooring available; vertical, horizontal, and strand-woven.
Vertical and Horizontal
They are ideologically the same but named based on the way they are glued. In vertical bamboo flooring, the strips are glued vertically. In horizontal type, the strips are glued horizontally. These are just made of bamboos.
These types of bamboo floorings are easy to refinish. These are solid bamboo floors, and the refinishing process for them is the same as refinishing hardwood floors.
Strand-Woven
Strand-woven bamboo planks are made by gluing bamboo fiber strands together under extreme heat and pressure. After harvest, bamboo stalks are cut and stripped down to make these fiber strands. Since the planks are made under extreme pressure by hydraulic presses, they are denser than vertical or horizontal bamboo planks. Perhaps, 2-3 times denser than them.
According to the chart in the intro, it is more durable than a typical wood floor. The Janka hardness score says it all.
Since it's dent and scratch resistant, you don't need to refinish it. Nevertheless, if you still wish to sand it, it will be tough.
Solid vs Engineered
Solid bamboo planks consist entirely of bamboo, whereas the engineered bamboos consist of plywood or fiberboard core with strand-woven bamboo veneer attached.
The engineered bamboo floors can be sanded and refinished. Make sure the veneer of the bamboo planks is at least 2mm. However, you shouldn't sand and refinish it more than twice.
Well, if the veneer is not thick enough, you may not refinish it at all.
Carbonized vs Natural
The difference between carbonized and Non-carbonized(natural) bamboo flooring is that the former has a darker color than the latter one. The darker shade is achieved by smoking the bamboo plank under extreme heat.
Carbonized bamboo is softer and prone to dents. As they are softer, they are easy to sand and refinish.
Don't worry about the color after refinishing. The color of carbonized bamboo is consistent throughout the plank, not just on the surface. This indicates that even after sanding, the color of the surface will remain even.
How to Refinish Bamboo Flooring
Prerequisite
Before we get into the specifics, here are the materials you're going to need;
Dust Mask
Orbital Sander
Power Hand Sander
Fine-grit Sandpaper
Stain
Polyurethane
Once you've acquired these, you will have to clean your room and move all the furniture to a different place. While moving, make sure there are no nails lodged on the floor for any reason. Inspect the floors properly.
Please ensure you have proper ventilation as staining and sealing can get rough.
During refinishing, there is a need to clean the floor many times to ensure the new finish does not have any bumps or dirt underneath it. Use a floor cleaner that is compatible with your finish. You can consult an expert as well.
Remove the Old Finish Using a Sander
To refinish your bamboo flooring, you have to remove the old finish. You can do this with a drum sander and 80 grit sandpaper. Make sure you're applying constant pressure to ensure you're removing nothing but the finish. This will also smoothen the bamboo surface.
Always remove the baseboards around the room before floor sanding to prevent them from being damaged by sanding.
When you're sanding, remember to keep the machine moving; otherwise, it will end up sanding a part of the area more than you wanted it to.
Shallow scratches will still be left over after the initial sanding; to get rid of these, we're going to sand the floor again with 300 grit sandpaper. This will sand the floor with utter precision and remove the finest scratches. This step is important because we are going to apply stain/finish later.
Check the sandpaper often to make sure it isn't worn out already.
TIP: While sanding the finish, lower-grit sandpaper can take up the bamboo wood. Hence, use fine-grit sandpapers. If you need to know the best outcome, always test different grits of sandpaper on a small section.
To remove the first layer of stain, lightly sand your floor with even pressure. The sawdust should be white; otherwise, the sander is sanding the inner bamboo. Stop as soon you see darker dust are coming.
Use a bamboo floor cleaner to clean the area.
Screening or Sanding?
Bamboo floors don't always require sanding; sometimes, only screening is required. If your floor is not dented or severely scratched, but you still want to refinish it because it looks dull, the screening process is sufficient.
The process of screening involves using an orbital buffer with a nylon pad and screen to lightly sand the floor and remove any old finish and scratches.
For deep scratches and dents, sanding is mandatory.
Well, I've addressed the sanding process in a single step. However, you can divide sanding into 3 phases for perfection. Similarly, the screening process can be divided into two phases.
| | |
| --- | --- |
| Sanding | Screening |
| 1. 60 grit sandpaperer | 1. 100 or 120 grit sandpaper |
| 2. 80 grit sandpaper | 2. 150 grit sandpaper |
| 3. 100-120 grit sandpaper | |
Data Source: llflooring.com
The 3 phase sanding is for ultimate perfection. However, use 80 grit sandpaper in case you want to finish in one step. Because we will resand it after we fill the gouges, anyways.
The same goes for the screening process. Use 150 grit sandpaper for the single-step screening process.
Vacuuming
Any refinishing process is incomplete without cleaning the dust. It is crucial to clean dust as left-out dust can stick to stains. In addition, it can re-scratch the floor while re-sanding. Keep a vacuum cleaner ready to remove dust and debris.
You should not use wet or dry mops for this purpose. Wet mopping can make the dust stick to the floor. Similarly, using a dry mop won't catch all dust; some will just move around the floor.
Use Filler for Gouges
Sanding the shallow scratches with sandpaper may not get rid of them entirely. Sometimes, you may find gouges, and filling them is necessary.
You will have to use a good wood filler to fill the voids. Purchase one that gets as close to your bamboo texture. Consult the manufacturer in case of any doubt.
Apply the filler on the gouges and voids; you can smoothen it with a putty knife. Let the filler dry. Put tapes around the gouge to prevent the putty from spreading to unscratched areas. Get rid of the excess filler by wiping the floor with a damp cloth.
Second Sanding
Now, resand the floor with the finest grit sandpaper to make the floor flat. Sometimes, the putty on the gouges may sink below the floor level. In that case, apply another layer of putty and repeat the same process.
You can use 100 or 120 grit sandpaper for this process.
Clean Splinters or Dusts
As usual, clean the floor after every sanding. Use a vacuum cleaner for this process.
Apply Wood Stain
After the sanding, you might notice that some parts of the areas are dry colored or lighter than the rest of the areas. This is because the stain has been sanded away. If you find uneven patches of stain, consider sanding again. Only stain the floor after it's been evenly sanded.
Now, let's stain the bamboo floor.
Apply a coat of stain on those areas. Remember that you always have the option to go for a new stain for the whole floor during a refinish.
It takes around 2 hours to dry, and re-coat it with stain if necessary before sealing it with polyurethane.
Find the right technique to stain your floor with. Pour the stain in proper amounts and wherever you feel the need for more stain, go for it. Use a rag or cloth if possible as a sponge would absorb it. The cloth should be wet but not dripping. Well, you can also use a paintbrush.
Everything depends on the intensity of the color you want; make sure you're not missing any part of the area. Let the stain dry for 2 hours.
Sealing
Apply the new finish and let it dry. Once it has dried, seal it with polyurethane finish. Polyurethane is the best choice because it's tough and scuff-resistant.
That will help keep the floor from future damages. Apply a second coat to make it more protective and thicker. Applying two coats is a time-consuming process, but it is worth the benefits.
Sealing a bamboo floor can help last the floor longer; it also provides protective layers depending on the sealant you use. Some sealers can protect against the sun, whereas some sealers are low on VOC and safe for the environment.
Should Bamboo Floors Needs to Be Stained?
A bamboo floor will not need a re-stain once installed, but you might also get it done during the refinishing if you still feel the need for a new stain. A new stain could be beneficial to you in terms of a better look, and it also works as a protective layer for the bamboo underneath.
Bamboo Floor Care
When you're moving furniture back in, avoid pushing or pulling. Get someone to lift the furniture and place them back on.
Use floormats at the entrance to prevent debris, dust from coming inside the house. But, don't use rubber mats; they can trap moisture and damage the bamboo floor.
Use protector pads for furnitures.
Never use a steam mop to clean bamboo floors.
Risks of Refinishing
You may void the warranty. Check manufacturers' instructions before you refinish, or you could void the warranty.
The toxic chemicals used for bamboo binding can emit VOCs during sanding. Wear a dust mask or a PPE kit while sanding.
You now have all the information you need to refinish your floor. Are you worried that it's going to cost you a fortune?
How Much Does It Cost?
The value of the refinish depends on what look you're going for, considering every factor. The cost to refinish bamboo per square foot range would be around $1.50 to $4.50. It can depend on the quality or type of bamboo you want to refinish.
A thinner bamboo cannot be refinished more than once, whereas thicker planks can be refinished many times.
Do you need some assurance that you won't have to refinish it again anytime soon?
Do Bamboo Floors Scratch Easily?
It entirely depends on the quality of your flooring. Scratching a bamboo floor is easy if it's intentional. Lower-quality bamboo floors may end up scratching even with proper maintenance and care, whereas higher quality ones are pretty sturdy.
Applying layers of protective polyurethane can save your bamboo floor from being damaged.
Conclusion
While bamboo floorings can be damaged, they can also be refinished and look luster and new. Taking care of bamboo flooring may prove to be a challenge for some, but you should be fine as long as you do not have sharp furniture legs, high heels, pet claws, and the like.